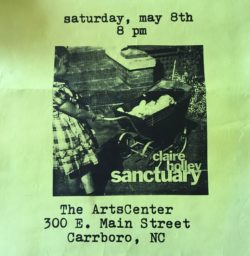 January 9, 2018: 20th anniversary project
I'm planning to do a follow-up to Sanctuary (1999) 20 years later! I will have more info very soon. In the meantime, here is a letter my Dad wrote me when I was in the process of selecting songs in March of 1998. Does anyone have song suggestions for this go round? Stay tuned…
December 1, 2016
While I was at the Glen Workshop this past summer, I met a wonderful filmmaker named Isaac Chung who mentioned that he had a friend who was writing a musical–might I be willing to meet him? Of course! One month later, I met Isaac and his friend, Sam Anderson, for lunch at Millie's in silverlake (a favorite spot for such meetings). By the end of our time together, I knew that I wanted to be involved. Sam has a very gentle demeanor and he's not one to mansplain his ideas to you. He certainly has a vision but he's also open to hearing other voices. This generosity combined with a sensitivity to his characters (and the actors who will play them) will serve him well as he moves forward to the actual filming which he hopes to begin in January. You can learn more about the project here. So no, it's not "Singing in the Rain," but it is a lot of singing in LA, and I'm thrilled to get a chance to help him see his vision through.
July 17, 2015
Check out this recent review in No Depression:
"Brave is the artist who tackles a Bob Marley song, especially one as well-known as "Three Birds." Exceptional is the artist who can completely transform said song and make it totally her own. Claire Holley's eighth album is a bit of a departure from her previous work, and as departures go, this one is a mesmerizing delight…"  Jim Simpson
Read the rest at the link above
March 4, 2015
Heading to Texas tomorrow for a conference at Laity Lodge. I've heard of this place for a long time, and I am thrilled to have the chance to finally BE there, in the little town of Leakey, Texas.
Then a house concert Sunday evening, March 8, in Austin at the home of a very close friend of thirty years, Elizabeth Chapin. You should see her artwork. I have performed in the Lone Star State enough to know that it contains some of the best listeners of music I have come across. Not to mention the players… looking forward to having Datri Beansit in on piano and perhaps some other surprise guests.
Check back soon. I promise to do a better job of updating this page!
---
---